Labrador Retriever, Australian Cattle Dog / Blue Heeler
We adopt only to Florid's Pinellas, Hillsborough, Pasco, Hernando, Manatee and north Sarasota counties. Applications are found on our web site: NewHorizonDogRescue.org No one can guarantee the breed(s) of any dog. DNA tests are not always accurate. Our determination of breeds is based on physical characteristics and behavioral traits. Requirement for Adopters: 1. Work from home or stay at home 2. Must feed quality foods 55 lbs Crate Trained Housebroken Friend to all living creatures Microchipped Spayed Current on vaccines and preventions Heartworm negative Born on or around June 8, 2018 Everything about Dream takes people's breath away. She is dignified, fun loving, affectionate, respectful, quiet, thoughtful and completely divine. She thinks things through before reacting. When other dogs aren't acting appropriately with each other Dream steps in and gently corrects their behavior. She's hush-hush quiet, non destructive and doesn't over react to anything. Dream is a special, special girl. Nutrtion: Rotate dog foods. No one dog food can satisfy a dog's nutritional needs long term.
Young, Female, Medium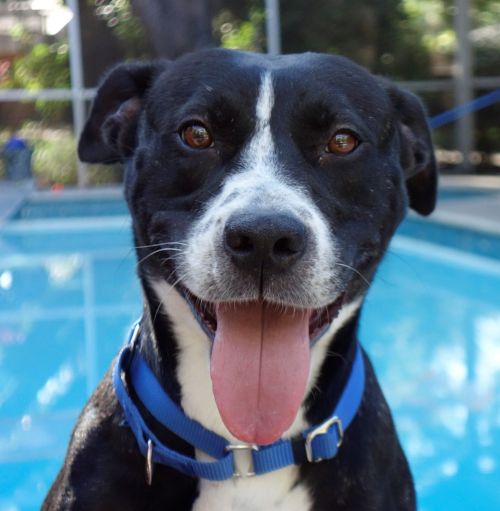 Labrador Retriever, Smooth Fox Terrier
Spayed/Neutered
Up-to-date with routine shots
We adopt only to Tampa Bay and surrounding areas. Please include your name and phone number when emailing: InquiryForNewHorizonDogRescue@gmail.com for more information. We cannot guarantee the breeds of any of our dogs. DNA tests are not fully accurate. The breeds are a guestimate based on physical characteristics and behavioral traits. 55 lbs Crate Trained Microchipped Current on all vaccines Leash Trained Born on or around June 30, 2019 A natural born swimmer! Beautiful and loving with all dogs and children With cats she's uncertain, as they are unfamiliar to her. No adverse reaction after 3 cat tests to include walking by the cat on a leash; however, her uncertainty would have to be resolved before she is fully comfortable with cats, so at this time Sophie is not a candidate for a home with cats. "If you don't take her she hasn't a shot of getting out of here." From the manager at a high-kill shelter. Sophie's biggest issue, if it is an issue, is she is shy at first. Once she warms up she's the life of any party. At the shelter she would quiver from fear, which precluded her from the scarce number of adopters that would visit that rural shelter. Since she's been with us she has become our divine princess. She's quiet and patient in her kennel while awaiting to go outside in the morning. She's quiet and patient when she and her buddies run in for breakfast. She came in with 4 male dogs and they go out of their way to give her smooches. Sophie Pants' owners did not afford her routine heartworm prevention. She is on our protocol -- which will be provided in full to her adopter -- which will render her completely heartworm free in about 9 months. In the meantime she can romp and play and be the charming girl she is. She does not have to be restricted to leash walking she can romp and play and continue to be the charming girl that she is. She swims! Beautifully! She mingles with children and all dogs as a best friend.
Young, Female, Medium